5 Costless Ways to Boost Employee Engagement This Summer
According to Gallup data, only a small percentage of workers, about 33% in the U.S. and 21% globally, consider themselves to be "engaged" at work. 
However, attempting to buy employees' enthusiasm and commitment is unlikely to succeed. While higher pay and better benefits improve satisfaction, they don't drive genuine engagement and extra effort, according to experts.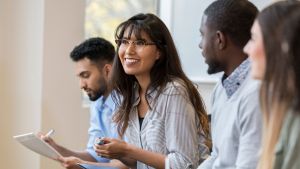 The good news is that businesses can enhance engagement without spending excessive amounts of money. Rather, leaders can act deliberately and thoughtfully by dedicating more time to professional development, fostering a company culture of recognition, and implementing practices that enrich employees' overall experience. 
Especially in the summertime, employers may compete with sunny weather, summer schedules for school-aged children, and vacation time. 
Continue reading for five employee engagement strategies designed to fit any organization or budget this July.
---
1. Give praise in public and in one-on-one settings
Having a practice for employee recognition, both publicly and one-on-one, is powerful. Sharing an employee's win with their colleagues helps the employee feel recognized and helps the team understand and join the celebration. The employee feels valued, the team feels motivated, and the result is a significant boost in morale. Equally, one-on-one praise is a meaningful way for leaders to connect with their direct reports, tailor their feedback, and foster deeper connections. These strategies in combination boost engagement through recognition, acknowledgment, and positive, personal encouragement.
2. Provide training and coaching sessions
Establishing a culture that promotes ongoing growth serves a dual purpose. In addition to developing employees' job-related skills, training resources help to convey the organization's appreciation for its workforce. Upskilling communicates confidence in employee potential. Fortunately, incorporating more training and coaching sessions can be relatively inexpensive, and providing your team with the resources they need can be profoundly profitable. Even for younger employees, who might change roles more frequently at the beginning of their career, there's no need to worry about "wasting" training --  in fact, investing more time into holding these sessions has been shown to boost retention and even attract new talent. 
3. Periodically ask employees for their feedback
Successful leaders listen attentively to employees and act on their suggestions. By adopting a comprehensive listening approach, organizations can promptly identify and resolve issues while making their employees feel appreciated and respected. Examples include increasing the frequency of employee feedback surveys, involving more workers in key stages of the hiring process, and consistently seeking ways to implement and follow up on employee requests.
4. Encourage sociability and company interaction
Engaged employees are emotionally committed to their work. A company culture that promotes and supports strong relationships between colleagues can cultivate that commitment across the entire team. Fostering healthy personal connections is vital, especially in today's team-centric work environment. Employees can socialize at little to no cost to your business; it's up to leadership to give their team the time and space to connect. Employees should feel empowered to celebrate their interests, explore their challenges and share their passions with their workplace peers. 
5. Set up volunteer opportunities in your community
A final low-budget strategy for increasing employee engagement is getting your business involved in the community. Coordinating company service projects can tremendously impact your culture by addressing a fundamental employee need: purpose. In fact, a recent report from Deloitte highlights purpose as a critical driver of engagement, essential in determining whether an employee finds pride in their work. When companies are engaged in their communities, employees see the larger impact of the work they're doing. They're more inclined to lean in and give their best to the role they have in making that difference. 
---
Source the right talent with TalentEdge
The people you hire play just as significant a role in fostering employee engagement as any of the aforementioned tactics. Finding ready-to-work candidates and securing the highest-performing talent in your area lays the foundation necessary to cultivate a committed workforce. Partnering with our recruitment experts at TalentEdge is an excellent strategy, allowing you to find exceptional candidates, and ensure a smooth onboarding and staff development through our established network of esteemed organizations, like the Greater Rochester Chamber. If you are interested in discovering how TalentEdge can assist in assembling your ideal team, contact us today.