Skills Mapping: What It Is, How To Do It, and How It Benefits Your Business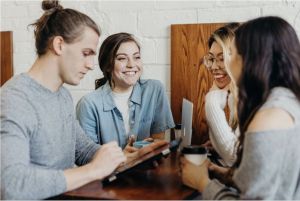 When it comes to your organization, having a solid team with a diverse skill set is the most straightforward way to generate business success. In fact, research has shown that companies with a variety of perspectives and diverse backgrounds are 35% more likely to experience greater financial returns. Thus, assessing your teams' abilities and identifying pitfalls can help you strategize a path toward building a more productive organization. 
The most reliable way to do this is through a process known as skills mapping, which we discuss below. 
What is skills mapping? 
Skills mapping entails the creation of a visual guide that lays out all the skills employees possess within your organization. Each measured ability or proficiency corresponds with an employee's role or relates to a certain department's common responsibilities. Besides revealing the strengths and weaknesses of current team members, it also allows you to fully understand how each employee contributes to the functioning and inner-workings of your organization. 
What are its benefits? 
Skills mapping becomes especially useful when hiring new talent to fill gaps within your company. By assessing individual employees and identifying lacking skills, you will be better equipped to make intelligent hiring decisions and know what to look for in potential candidates. 
Other benefits of skills mapping include the following: 
Provides an organized representation of your company's needs 

Identifies employees that may benefit from more training 

Shows how employees who excel in different skills can collaborate to produce specific outcomes 

Helps employees understand their strengths and weaknesses 

Discerns how departments differ from each other from a capabilities standpoint
How do I do it? 
The simplest way to successfully perform skills mapping includes creating a skills matrix. A skills matrix is a table that categorically lists your employees, their roles, and how they rank on a particular ability or trait. Creating a series of matrices for each of your departments makes it much easier to understand how each individual contributes on one easy-to-read spreadsheet. 
To begin making a skills matrix, open up any application that allows you to generate tables. Then, follow these step-by-step instructions: 
Open a new document in your application. 

Add each employee's name to the leftmost column. 

In the column immediately to the right, add each employee's role in their department.

In the top row of the document, write each of the skills/proficiencies you will measure in each employee. 

Create a measurement scale for each skill (ex. 1-5) and include this information in a key.

Assign a rank for each skill for each employee (or input their results from a corresponding

skills assessment

)

. 

Consider color-coding the spreadsheet, including additional rows for analysis, and displaying each employee's overall skill value. 
How does this process play out in real life? 
To better understand how you can leverage skills mapping in the real world, consider the sample skills map below and the following scenario: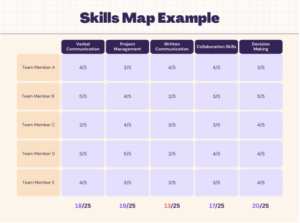 A small firm's marketing department comprises a manager plus five employees. The manager plans on expanding the team and wants to know what type of candidates he should look to recruit that would benefit the team most.
To determine his department's strengths and weaknesses, he gives a skill assessment to each of his five employees and records their scores on the skill matrix above. After analyzing the data and calculating the overall scores for each skill, he concludes that his department is the least proficient at written communication. Therefore, when he hires new team members, he will choose candidates with the strongest written communication skills. 
By performing skills mapping, the firm's marketing department could successfully assess its current team, identify its strengths and weaknesses, and determine how to fill existing gaps through recruitment or additional training. 
How should I use the results of my skills mapping? 
After you've analyzed the results of your skills mapping across departments, it's essential to know how to use this data to inform your hiring decisions. Partnering with a reputable full-cycle talent acquisition firm (like us at TalentEdge) is a great way to ensure you connect with high-quality candidates that will fill your productivity gaps and suit your needs. For example, TalentEdge's long-standing relationship with Greater Rochester Chamber gives your hiring team preferential access to top talent in the region. If you'd like to learn more about how TalentEdge can help you build your ideal team, contact us today!