Top Three New Hire Expectations to Meet in 2023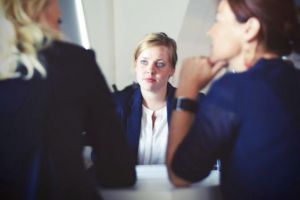 The criteria professionals desire from their employers constantly shift to match the current conditions of society. Thus, it is paramount that firms continuously listen and adapt to what prospective employees are looking for in their position at an organization. 
With Q1 of 2023 coming to a close, we've compiled a list of some of the most critical things your business should prioritize to attract and maintain a quality workforce. Outlined below are three factors to consider: 
1) Review your company values and goals. 
Gone are the days when professionals will settle for a job that just pays the bills. Rather, today's generation of top talent seeks to work for companies that emulate their same values, attitudes, and goals. According to research on Gen Z workers by Deloitte, "To win the hearts of Generation Z, companies and employers will need to highlight their efforts to be good global citizens." Even with age out of the picture, 54% of American employees would still be willing to have a lower salary if it meant working at a company with better-perceived values.
Regarding what you can do for your organization, a great starting point would be to ensure that prospective and current employees know your company goals. In other words, the sooner you communicate your values to career seekers, the better. A good strategy might include your large-scale objectives and how your firm strives to achieve these goals on public documents, such as job descriptions. In addition, organizing opportunities for your employees to volunteer in the community or hear from guest speakers are other great examples of showing your company's commitment to their core values. 
2) Leverage technology. 
Now more than ever, access to current and modern technology is essential in the workplace. Employees expect to interface with an integrated tech stack that will help them keep pace in today's fast-moving market, increasing company productivity and team collaboration in the long run. Further, a recent survey from Salesforce revealed that 71% of employees expect their company to provide the same level of technology that they use in their personal lives. 
To meet the high-tech demands that many employees now have, upgrading to fast, reliable, and user-friendly platforms will help keep your systems up to date and contribute to a positive working experience. Incorporating technology into all aspects of your employee and onboarding processes is highly crucial. We recommend utilizing our sister company, Authentica, which provides fully digitized solutions for all your background screening needs. Read more about Authentica's cutting-edge capabilities and powerful suite of screening tools here. 
3) Provide additional support for employee well-being. 
Although "employee well-being" is not new to most companies, the term has evolved in recent years. While more traditional measures of employee well-being include providing medical insurance, granting access to on-site gyms, and making healthy snacks available, firms are increasingly expected to prioritize not just the physical well-being but also the mental well-being of their employees. This effort comes as recent studies reveal that workers are more stressed than ever before, with 62% of American employees reporting extremely high-stress levels in their jobs. Additionally, ADP Research found in their 2022 People At Work report that about half of all employees would take a pay cut in exchange for a better work-life balance.
Employee well-being solutions may look different from company to company, but a comprehensive approach yields the most successful results. Forbes points to 7 distinct pillars of employee well-being that each worker should feel supported in and that the company should integrate into workplace culture. Creating an environment where employees feel encouraged to share their ideas, take advantage of mental health days or resources, and access personal and professional development opportunities will go a long way. 
Whether you're an employer looking to satisfy the outlined expectations above, or a career seeker trying to find the path that meets your needs, TalentEdge provides an extensive range of services that aid in either situation. As a full-cycle talent acquisition firm, our HR Solutions help employers identify how best to recruit and retain talent. Our long-standing ties with Greater Rochester Chamber help career seekers land the position that works uniquely and ideally for them. Let our team at TalentEdge help bring you hiring and employment success in 2023 – click here to contact us today.